Untar invited high school in Jabodetabek representatives in "Unlock Your Potential" School Gathering event, Wednesday (14/6) at Untar Campus I.
Rector of Untar Prof. Dr. Ir. Agustinus Purna Irawan, M.T., M.M., I.P.U., ASEAN Eng. stated that this event is an opportunity to build educational collaborations between secondary and higher education.
He expects the collaborations become an effort to support Indonesia Emas (Golden Indonesia) 2045. The future of education depends on excellent generation, which are the current high school and university students.
He stated, education must support alumni to contribute more for the advancement of Indonesia.
"Untar as one of Excellent-accredited universities in Jakarta, is ready to collaborate with all schools in Indonesia," said Rector.
Untar students and alumni with achievements also shared their success stories. They are entrepreneur and Untar alumnus Josiah Jehoshua Constana, Abang None Jakarta 2022 finalist Sherly Amanda Aprilia Putri, IISMA 2022 Alumna Evelyn Hartono, and ICAEW Business Challenge 2023 Best Speaker Esperansya Desmonda Woen.
They encouraged students to find their potential and keep exploring own talents and interests.
"Do not stop developing your potentials academically and non-academically. This will be the key in the professional world later on," stated Josiah.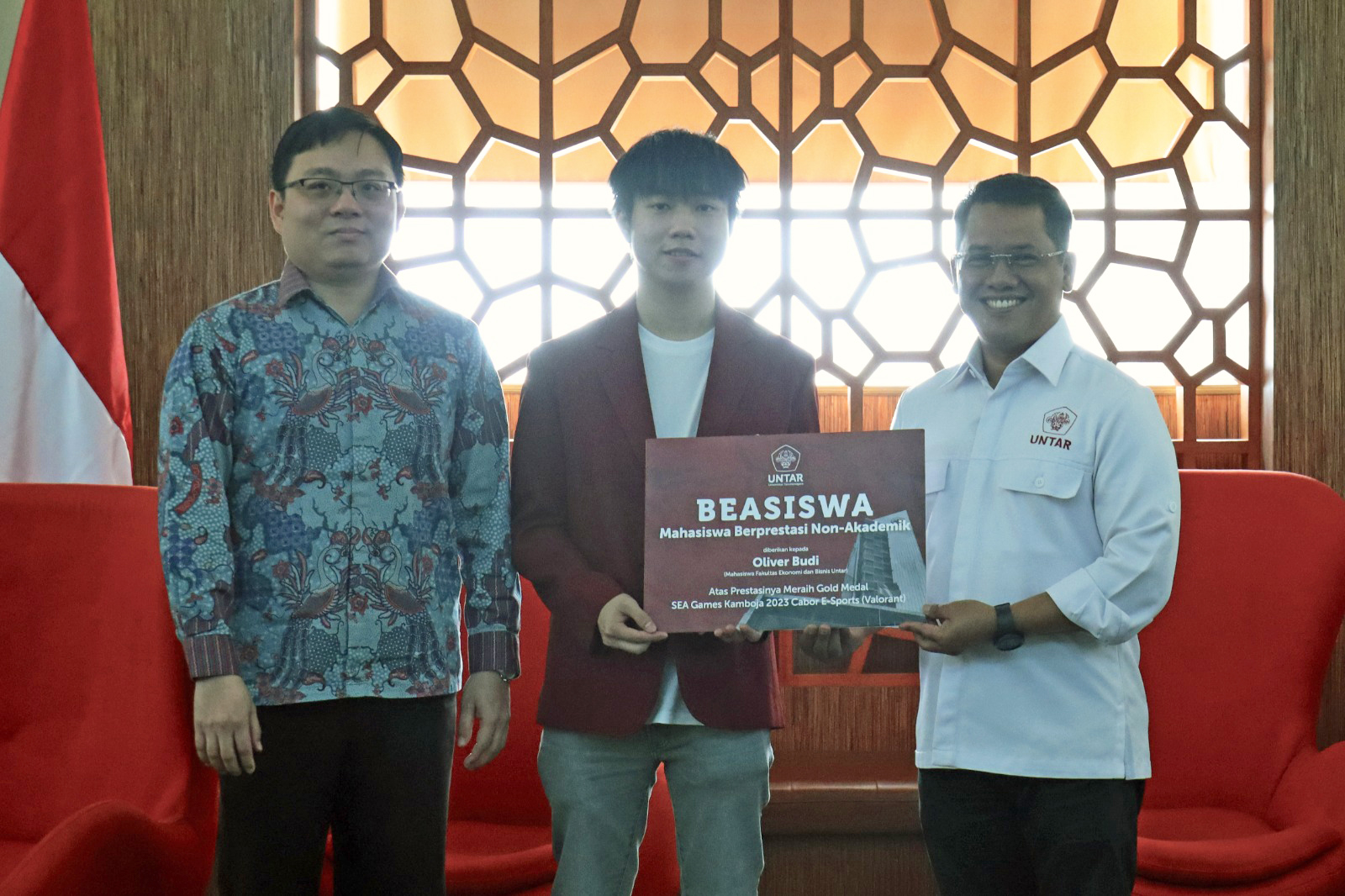 On the same occasion, a scholarship was handed out to student of the Faculty of Economics and Business Oliver Budi Wangge. This scholarship is an appreciation for his achievement as the gold medallist in SEA Games Cambodia at Valorant E-Sport Discipline on last May.
Oliver expects students to keep believing in their own potential development, and not let fear gets in the way of what can be achieved through new opportunities.
The achieveing alumni and students are expected to be able to encourage participants of event to explore their talents and interests at Untar.
A student that participated, Caitlyn Lorenza of SMAN 33 Jakarta, stated that Untar is the campus of her dream. According to her, Untar has many achieving students and fun lecturers, supported with decent facilities.
Teachers and students participated were from SMA Tarsisius 2, SMA Kristen Kanaan Jakarta, SMA Methodist, SMA Kristen Kalam Kudus 2, SMA Santo Kristoforus 1, SMA Mardi Yuana Depok, SMA Providentia, SMA Tarsisius 1, SMAN 33, SMA Santo Kristoforus 2, SMA Kristen Yusuf, SMA Kristen Kalam Kudus 3, SMA Kemurnian 2, SMA Kristen Ketapang 1, SMA Ketapang 3 Cibubur, SMA Strada St. Thomas Aquino, SMA Bunda Hati Kudus, and SMAN 2. (VW/YS/AW)