From Candra Naya to Modern Campus
History, Vision, Missions, and Objectives of Universitas Tarumanagara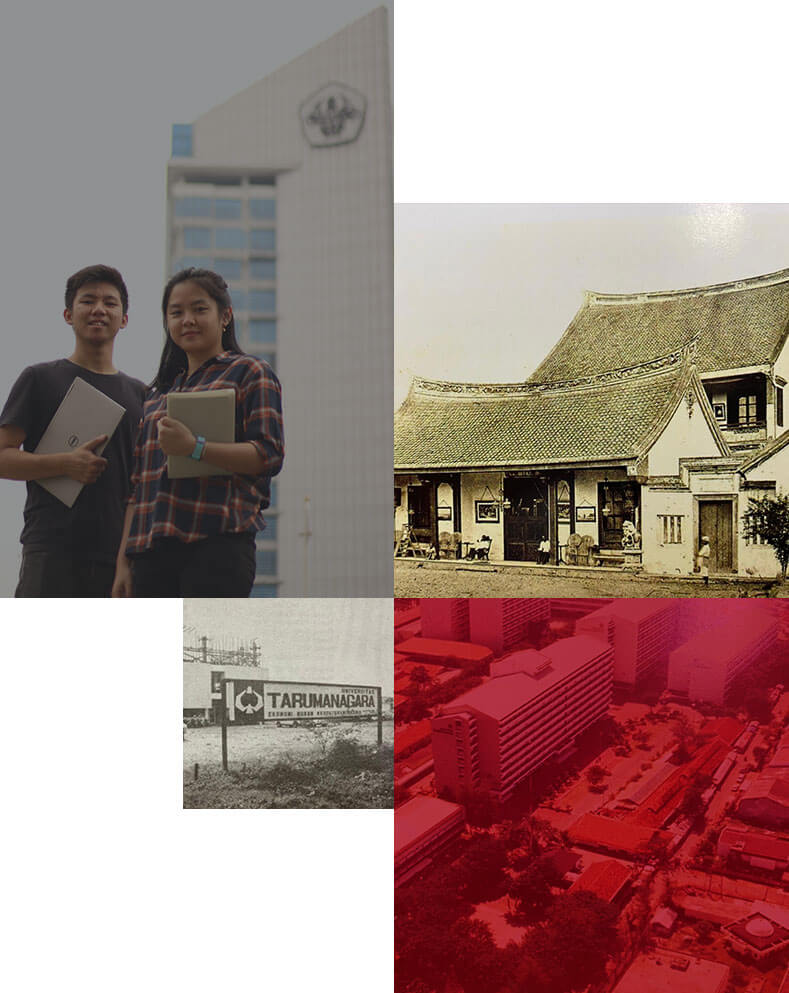 Universitas Tarumanagara (Untar) is one of the oldest private universities in Indonesia. Inspired by the Tarumanagara Kingdom, the first idea to estabilish a higher education institute was initiated in 1957 by a group of sociologist in Candra Naya Social Association which was still named as Sin Ming Hui back then. On the initiative of Drs. Kwee Hwat Djien, they agreed to estabilish a foundation named Tarumanagara Foundation on 18 June 1959.
Tarumanagara Foundation estabilished its first higher education institute which was Tarumanagara Economics Higher Education Institute, Corporate Economics Department on 15 October 1959, located at Candra Naya building, Gajah Mada Street no. 188. This institute was led by Drs. Kho Oen Bik as the dean and Drs. Lo Kiem Tjing as the vice dean.
Architecture Engineering School was estabilished on 1 October 1962. This school then become the Faculty of Engineering, Architecture Department. This faculty is one of the oldest private Architecture Engineering Department in Indonesia.
In line with the commitment of the estabilishment of Tarumanagara Foundation which engaged in the field of education and health, the Faculty of Medicine was estabilished along with Bachelor of Medicine Study Program and Doctor Profession Study Program on 1 October 1965.
Political turmoil related to G30S/PKI in 1966, made learning process unstable, resulting in modern language faculties such as English Department had to be closed and its students moved to the Faculty of Literature Universitas Indonesia.
1967 was the year Untar began to rise again. In that year, the campus on S. Parman Street was inaugurated with a ceremony that was quite festive according to its era. This inauguration marked the first time an activity in Untar covered by TVRI and broadcasted on the next day. This inauguration was also attended by the Governor of Jakarta Ali Sadikin and the Deputy Governor of Jakarta Dr. R. Soewondo, whom then in 1974 become the Head of Tarumanagara Foundation. Corporate Economics Department changed its name to Management Department with Bachelor of Management Study Program. In 1972, this faculty estabilished Accounting Department with Bachelor of Accounting Study Program.
Rapidly developing, Untar then estabilished Informatics Engineering Study Program in 1992, and officialy estabilished Master's Program on 1 October 1992. This then followed by the estabilishment of two new faculties, the Faculty of Psychology and the Faculty of Arts and Design in 1994.
Post-2000, Untar returned to estabilish two new faculties, the Faculty of Information Technology in 2002 and the Faculty of Communication Science in 2006. In 2007, Untar Main Building, constructed on a land 31.632 square meter in size, was inaugurated. Next in 2009, The Excecutive Lounge and Tarumanagara Knowledge Center (TKC) were officialy opened.
Currently Untar manages eight faculties: Faculty of Economics and Business, Faculty of Law, Faculty of Engineering, Faculty of Medicine, Faculty of Psychology, Faculty of Arts and Design, Faculty of Information Technology, Faculty of Communication Science, and one Postbaccalaureate Program.
Vision
To become a leading Entrepreneurial university that owns Integrity and Professionalism in Southeast Asia.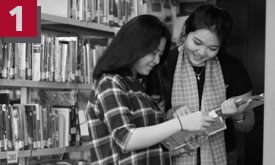 To organize education based on the values of Integrity, Professionalism, and Entrepreneurship (IPE)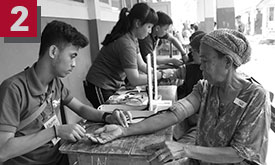 To organize and to develop Tri Dharma activities to the whole Academic Community based on the values of Integrity, Professionalism, and Entrepreneurship
To organize activities to improve society life quality through science application, technology, and arts continuously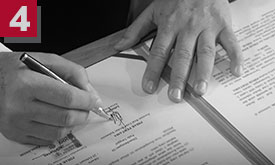 To organize mutual cooperations with various national and international institutions in order to expand networking