Untar as one of private universities excellent-accredited by BAN PT, manages to be ranked as top three best private universities in 2023 by The AppliedHE Private University Ranking: ASEAN+.
Result of rankings released on Thursday (23/2) puts Untar in the third rank among private universities located in South East Asia, along with other Asian countries such as Azerbaijan, Bangladesh, Hong Kong, Kazakhstan, and Taiwan (ASEAN Plus).
This institution ranks private universities based on teaching and learning, employability, research, community engagement, internationalization, and institutional reputation.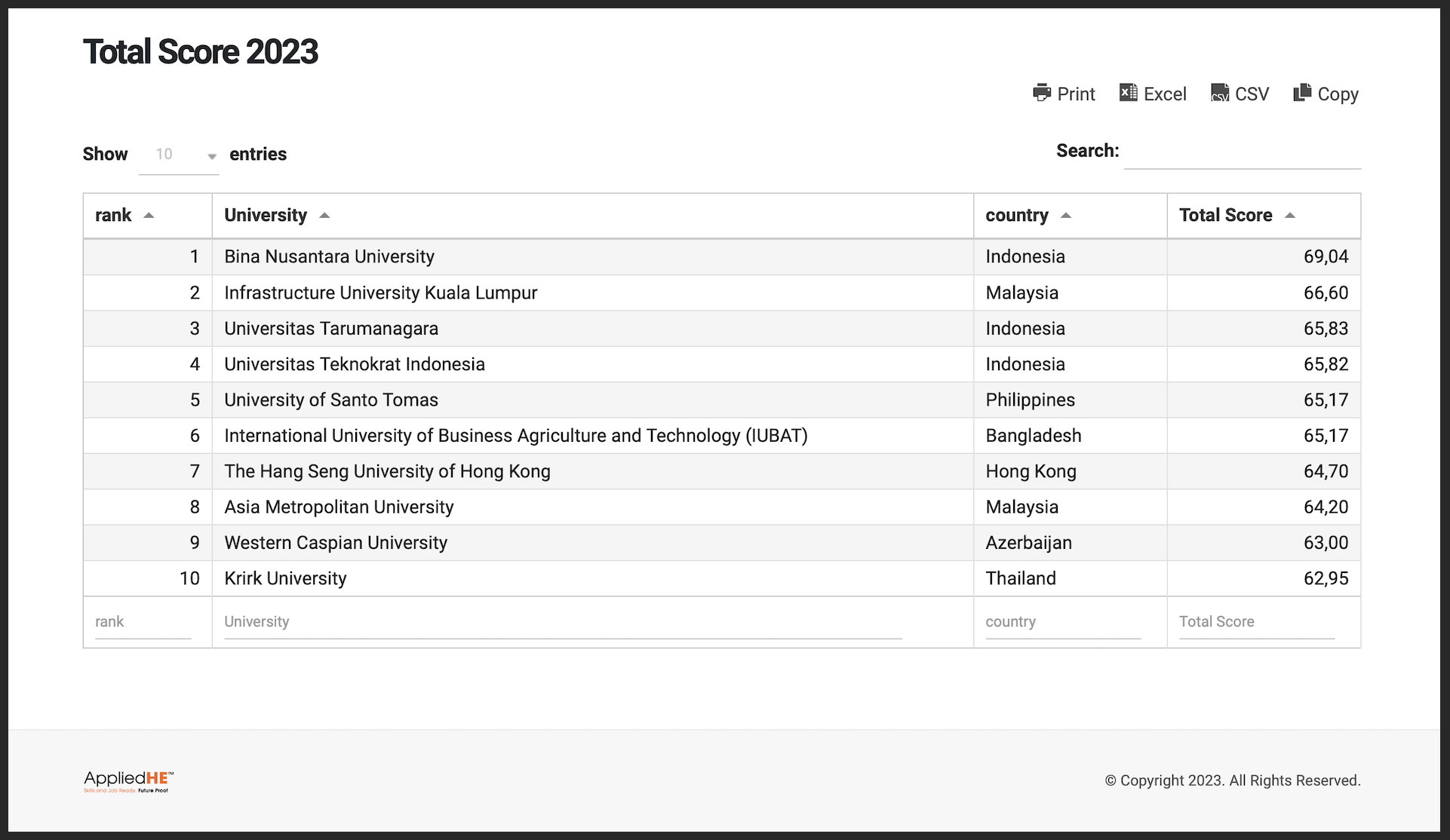 This rank from The AppliedHE Private University adds to the international recognitions of Untar's performance, after previously obtained four stars from QS Rating in the same year.
Rector of Untar Prof. Dr. Ir. Agustinus Purna Irawan, M.T., M.M., IPU, AE states that the assessment of The AppliedHE Private University Ranking is an international recognition of Untar's performance as an excellent university, not only nationally, but also internationally.
"Certainly, this is the result of the whole Untar academic community's hard work, that always adapts to global development and has the spirit to give the best for the improvement of higher education in Indonesia," says Rector.
Exceptionally, this is the first time Untar ranked by The AppliedHE Private University and manages to achieve top three best private universities, along with other campuses that have been ranked previously. This supports the evidence that Untar is the best private university in Indonesia
The AppliedHE Private University focuses on the assessment of private universities in ASEAN countries, along with several other Asian countries. (YS/AW)
Read More on External Media
Sindo News
Untar Raih 3 Besar Terbaik ASEAN Plus Versi The AppliedHE Private University Ranking
Medcom.id
Mantab! Untar Peringkat ke-3 Kampus Swasta Terbaik di Kawasan 'ASEAN Plus'
El John News
Untar Raih Tiga Besar Terbaik ASEAN+ Versi The AppliedHE Private University Ranking
Media Indonesia
Di Kawasan ASEAN Plus, Untar Menjadi PTS Tiga Besar Terbaik
Antara News
Untar Raih Tiga Besar Universitas Swasta Terbaik ASEAN+
Jakarta Review
Bikin Bangga, Untar Raih Tiga Terbaik ASEAN
Jurnas
Untar Masuk Tiga Besar Kampus Swasta Terbaik ASEAN
Menara62.com
Untar Universitas Swasta yang Raih Tiga Besar di Kawasan ASEAN Plus
Kompas.com
Untar Masuk 3 Besar Kampus Swasta Terbaik ASEAN
MNC Trijaya
Untar Raih Tiga Besar Universitas Terbaik ASEAN
RRI.co.id
Untar Raih Tiga Besar Universitas Terbaik di Asean