Untar became the host of National Student Choir Competition (PSMN) 2022 which was an agenda of national level student activity program of Indonesian Talent Development Center (BPTI) National Achievement Center (Puspresnas) the Ministry of Education, Culture, Research, and Technology (Kemendikbudristek).
This event was participated by choir teams from universities in Indonesia, and has started in August. The preliminary stage was participated by 112 participants, which then only 21 advanced as the finalists. The final was held on 17-18 October at Graha Swara Concert Hall, Untar Campus, presented musician Purwacaraka and Soprano Singer Binu D. Sukaman as the judges.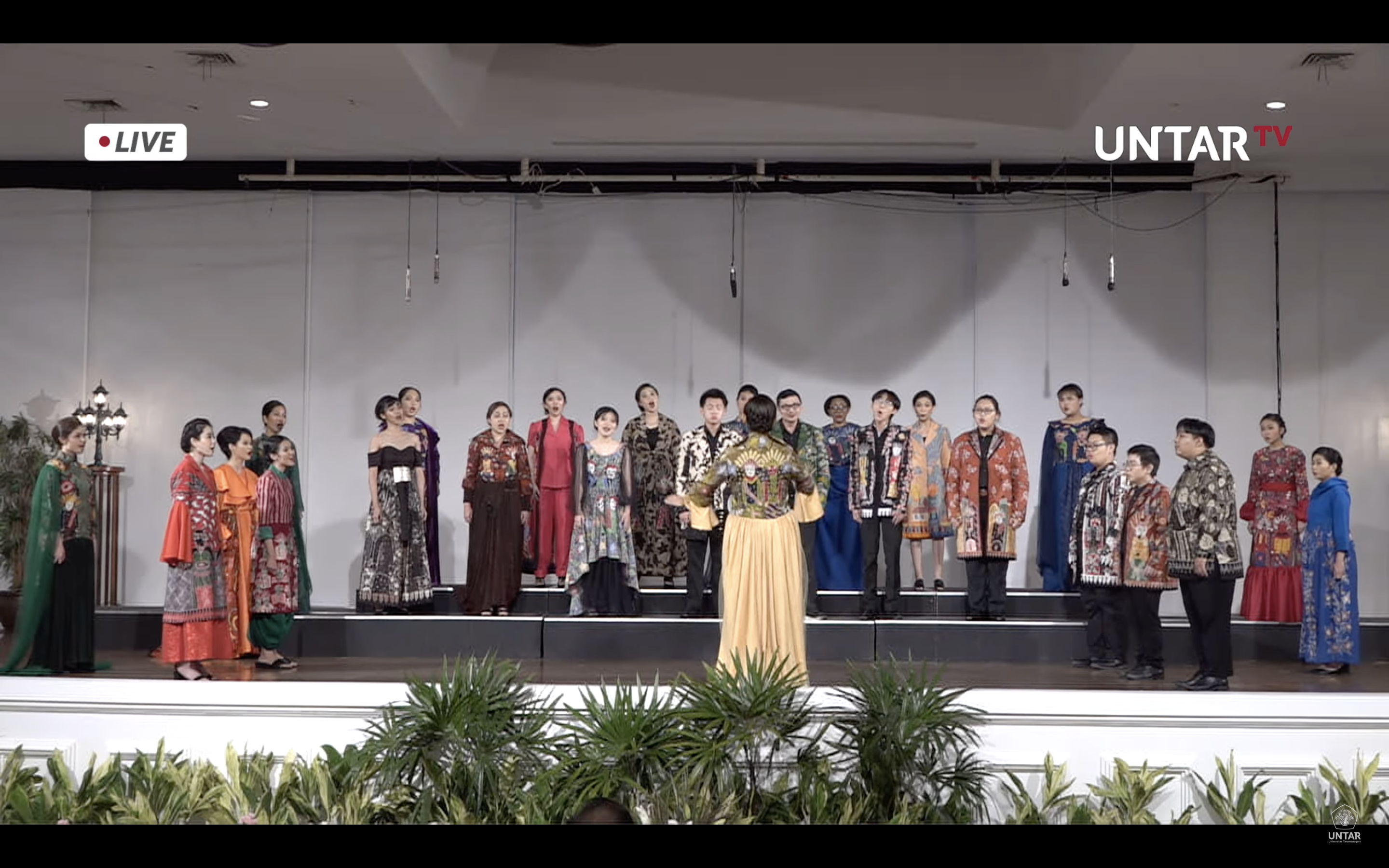 Untar's willingness in facilitating various activities, both national and international level, becomes a contribution to Indonesia. Untar which enters 63rd year aims to contribute more in various educational activities of the nation.
That was the statement of Rector of Untar Prof. Dr. Ir. Agustinus Purna Irawan, M.T, M.M., IPU, AE, during the opening of PSMN 2022, which titled "Harmony for the Nation".
"After this event, Untar is open to partnership with various universities, in various fields," added Rector.
Meanwhile, Acting Head of National Achievement Center Asep Sukmayadi, S.I.P., M.Si. stated that this event was not only a competition, but also an implementation of the responsibility to support the character growth of Pancasila students. As well as a reminder that parents, teachers, and higher education to pay more attention to best talents of our children, of all fields.
In another part, Asep emphasized the commitment of National Achievement Center to strengthen and create independent learning space that able to bind creativity and experience. "Untar as a university, appears has been able to bind creations and experience," he said.
The opening was participated by university leaders from Sabang to Merauke.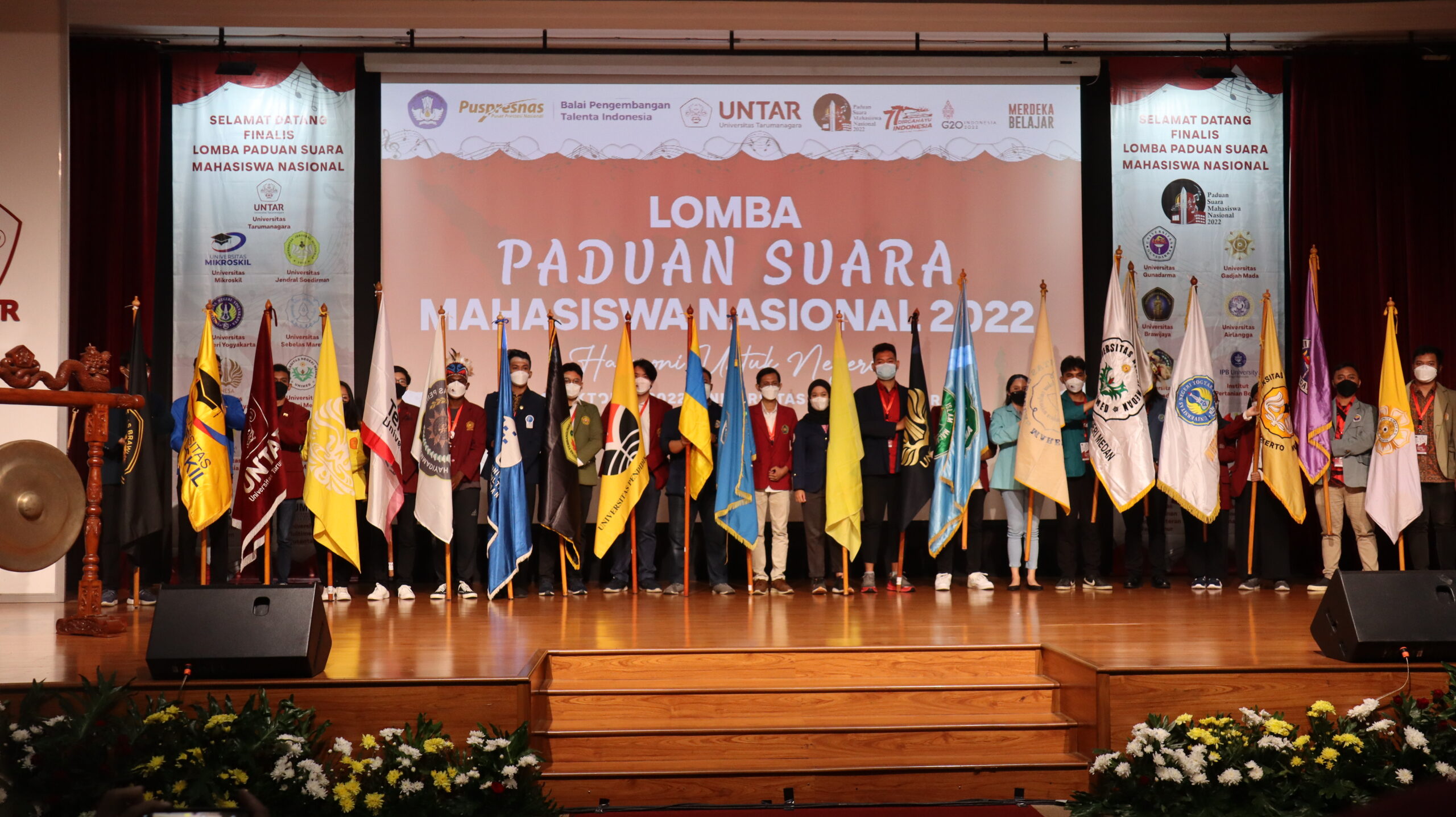 Participants from Sorong, West Papua
PSMN 2022 was participated with choir teams from leading Indonesian private and national universites, such as Universitas Borneo Tarakan, Universitas Negeri Medan, and Universitas Pendidikan Muhammadiyah (Unimuda) Sorong, West Papua, Universitas Telkom, Universitas Indonesia (UI), Universitas Gadjah Mada (UGM), and many more. PSMN is not only as an event to compete singing abilities, but also an experience to participants such as experienced by Mizel Wattimena. The student from Unimuda and his team had a long trip from Sorong to Jakarta to participate in this competition.
"We come from Papua, we had to sail for five days and five nights, but we are happy that we finally able to arrive at Untar. We want our East Indonesian friends to have the same opportunity with the other friends here," said Mizel when telling his experience to reach Untar.
Rector of Unimuda Dr. Rustamadji, M.Si. stated his appreciation to the service and acceptance of Untar to his team, and it became a part of Untar's success as the host.
"We hope participating students not only compete, but also obtain experience and build networking which will be beneficial in the future," said Rector of Untar.
-SA/YS-
-AW-