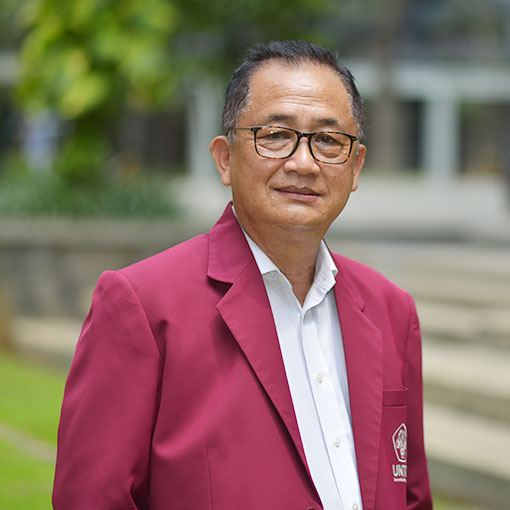 Dr. Adianto, M.Sc.
Head of Students and Alumni Affairs Institute
Dr. Adianto, M.Sc.
Head of Students and Alumni Affairs Institute
Before graduating with a Bachelor of Physics from FMIPA-UGM in 1982, and after earning his Bachelor of Science degree in 1978, he became a civil servant working as a researcher at the Nuclear Physics Laboratory, the Atomic Energy Agency (BATAN). After receiving a scholarship in 1986 from the Kemenristek R.I. through the Overseas Fellowship Program (OFP) to continue his studies in the UK, he earned an M.Sc. in the Faculty of Electronic and Electrical Engineering in the field of Computer Instrumentation in 1988. He earned his PhD in Materials Science in 1993 at the University of Salford. The Head of Engineering and Advanced Technology at the Center for the Empowerment of Nuclear Science and Technology, BATAN, in 1994, was also selected as Principal Researcher in the Integrated Leading Research Program V, Materials Science with Research Title: "Use of Plasma-Polymerized Thin Layers of Organic Materials for Manufacturing "Electronic Devices" in 1996 to 1999 by the Ministry of Research and Technology. So far, he has published more than 40 titles of scientific and research works both nationally and abroad.
After being assigned as Assistant Deputy for Accreditation and Science and Technology Center Development in 2000, he got reassigned as Assistant Director for Academic Affairs for Postgraduate Research Organizers at PUSPIPTEK Serpong. Being a permanent lecturer at Untar since 1994, Dr. Adianto has experience teaching various subjects such as Research Methodology, Instrumentation, Energy Management, Calculus, Solar Energy, and English, but his speciality is Physics.
Throughout his career at Untar, he has served as Assistant Dean for Academic and Student Affairs at the Faculty of Engineering. Since 2016 he has been serving as the Head of Students and Alumni Institution.